Rong Shi, Département de biochimie, de microbiologie et de bio-informatique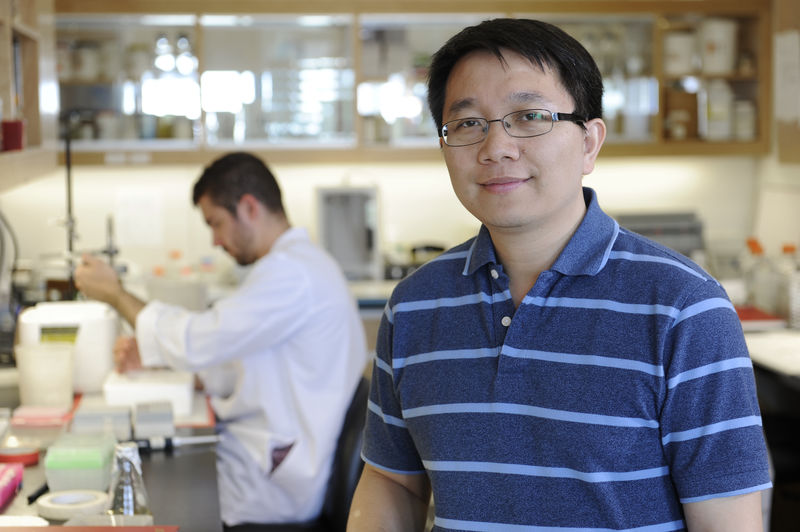 I am an associate professor in the Département de biochimie, microbiologie et bio-informatique (Faculté des sciences et de génie) at Université Laval. I am also affiliated with the Institut de biologie intégrative et des systèmes (IBIS). As a biochemist and a protein crystallographer, I am interested in the elucidation of molecular mechanism of proteins at atomic level.
Proteins are tiny machines in the cell that carry out nearly every significant biological process. The function of a particular protein depends critically on its structure, i.e., the spatial arrangement of all the atoms in this protein. A close-up view of their 3D structures can help answer the fundamental questions about their roles in cells, and how they carry out these roles. Using X-ray crystallography as the primary methodology in combination with other approaches, my laboratory focuses on the structural and functional studies of various proteins.
The ongoing projects include:
Enzymes involved in the biosynthesis of clinically important antibiotics and other natural products with promising bioactivities. This research will help understand the mechanism of how these bioactive molecules are tailored by various enzymes to confer the observed bioactivity and provide the structural basis for biosynthesizing novel analogues with improved properties.
Enzymes involved in the mevalonate pathway & juvenile hormone biosynthesis of insects. This research will provide a better understanding of their unique features and facilitate structure-based inhibitor design, paving the way for the development of selective, environmentally benign pest-control products important for forest protection.
The phage early- and middle-expressed proteins. This research aims to unravel the last standing black box in phage genomics and will also provide great potentials for a better solution to overcome the negative impact of phages in the dairy and cheese industry
Novel virulence factors in Pseudomonas aeruginosa, the second major important opportunistic human pathogen in clinics. Elucidation of the structure and function of these proteins will bring important new knowledge required to understand the physiology of this important pathogen.
Our current research is supported by NSERC, CFI, FRQNT, PROTEO and Université Laval.